Dovpo has released its Peaks Pod Kit. The compact device was stylized as a petrol lighter and endowed with two modes of operation for different types of evaporators.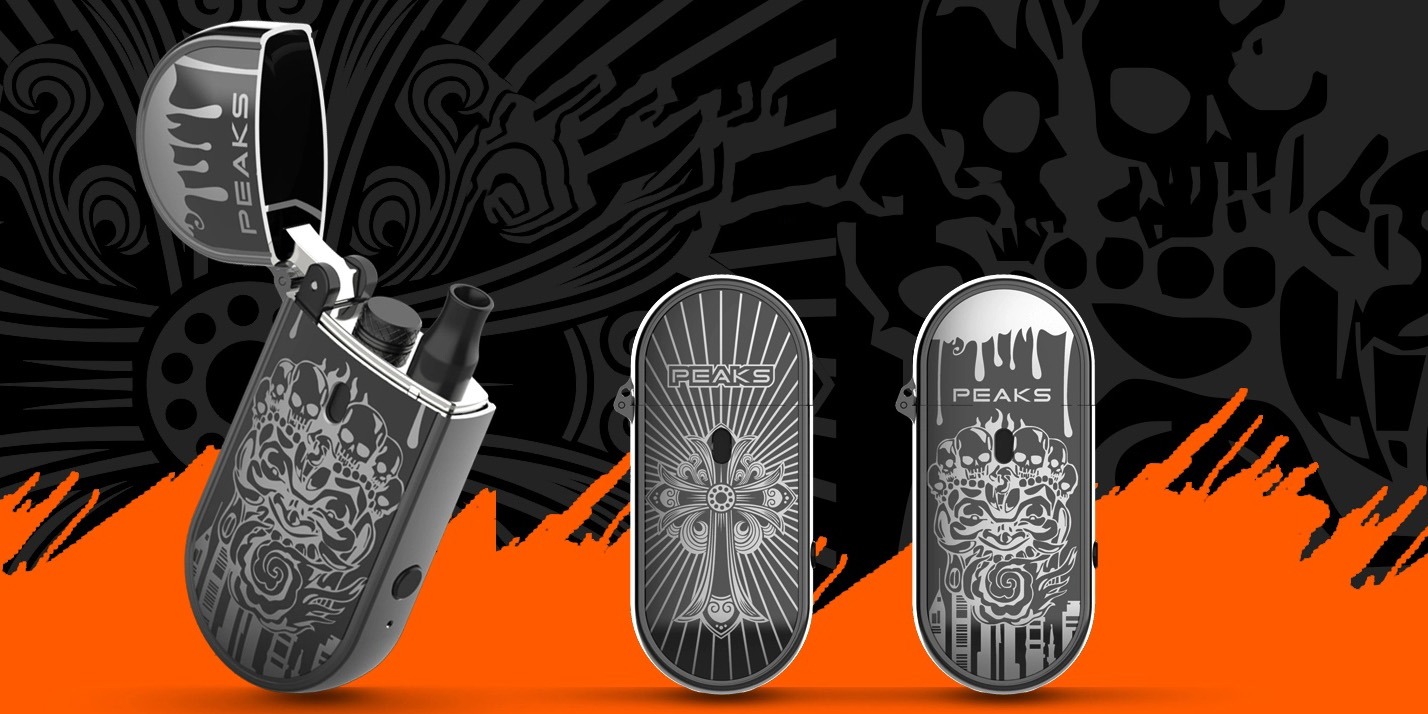 On July 23, Dovpo presented the Peaks Pod Kit in the all-in-one set instagram  . The device is implemented in the form of a gasoline lighter with a hinged lid. The basis for the oval body made zinc alloy. The ends were perforated with small windows to control the fluid, and also generously decorated with original prints with the images of crosses and skulls. Apparently, alternative variations have not been made. Ignition buttons on the case are not provided, limited to the adjustment key with a small dot of the indicator in the lower part of the narrow facade. The center of the semicircular bottom occupied USB Type-c port. The loop of the lid is combined with a strap mount.
There are two modes of operation – 8 and 15 watts, in addition, there is a pre-heating function, activated by pressing the switch button four times. The cartridge holds 2 ml, refills on top and works with replaceable evaporators. The standard set provides options on the grid and ceramics with a resistance of 1.4 and 0.8 Ohms, respectively. The integrated battery has a capacity of 650 mAh, charging is carried out with a current of 0.65A. Activation – when tightening.
The device comes with two evaporators, a strap, a USB cable and instructions.
Main characteristics:
Size – 89.8 by 39 by 18.4 mm
Built-in 650 mAh battery
Power – 8/15 watts
Evaporator resistance – 0.8 / 1.4 ohm
Tank capacity – 2 ml
Top dressing
Features:
Constructed from zinc-Alloy material and flip-cover
Powered by 650mAh internal battery with a long lifespan
The pod capacity is up to 2ml to meet the daily use
Two coil types for your options to meet diverse demands
Available in two power output for your options
Package Included:
1 * Peaks Device
1 * Peaks Pod(2ml)
1 * 0.8Ω Mesh Coil
1 * 1.4Ω Ceramic Coil
1 * USB Type-C Charging Cable
1 * Lanyard
1 * User Manual
Click Here Ave40  For Vape Wholesale Cooperation.
Hot Sale Recommendation:
Voopoo Drag 2 Platinum 177W TC Box Mod
Vladdin Eden Vape Pod System Kit
Vape Wholesale & buy Electronic Cigarettes online in Bulk. 2m*1i9y0a7j*
Quality Vape Products, Trusted Vape Wholesale Supply by VapeShops Owners.
WHOLESALE INQUIRY: https://www.ave40.com/wholesale-service.html
Starter-Kits:https://www.ave40.com/starter-kits/disposable-pod-system-kits